When social entrepreneurs and social investors come together, there's always lessons to be shared and tips for business growth.
On Thursday, May 21, the Land Accelerator hosted its first ever virtual Live Pitch featuring four alumni from the 2019 Land Accelerator Africa who pitched to a panel of three social investors.
One highlight from this virtual event was hearing from the three panelists about what makes certain businesses stand out to them. Sapna Shaw of Novastar Ventures mentions the story of iProcure and the founder's ability to pivot over time until discovering what works (at minute 5:45). At minute 14:30 you'll hear Marije Schasfoort share her top 7 rules to live by to have your company stand out.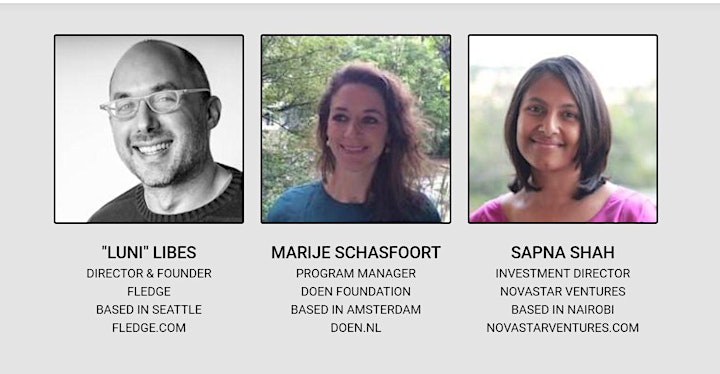 Luni Libes, founder of Fledge.co shares an inspirational story of an entrepreneur from Uganda who built two businesses in his community that total in $500,000 USD in revenue each year. Watch at minute 21:00 to learn what it was about that entrepreneur that led Luni to be the first investor in that company.

The pitching begins at minute 25:20, each pitch followed by feedback. What is clear is that each of these four companies are continuing to serve their communities safely during the COVID-19 pandemic. Francescah continues to produce and supply land amendments to farmers, Ezra's trees are still growing in the nursery, Amadou is leading the Gum Arabic producers group in Niger and continuing his plans to procure and plant additional acacia trees that provide gum arabic and mitigate desertification. Lorna of E-Moto, – which is known for its bio-fuel production that avoids deforestation by the charcoal industry – even created a new hand sanitizer product line using her existing supplies of bio-ethanol created from sugar cane waste.
We hope that you are able to enjoy this video and take lessons from it for your business. The Land Accelerator team will do this type of event in the future, so watch out for announcements.